Here's why your next gaming PC should be a prebuilt one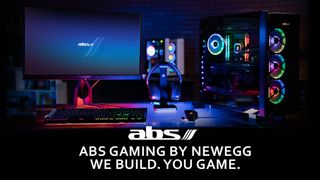 (Image credit: Newegg)

When it comes to PC gaming, there really are only two camps you can belong in. The first are the enthusiasts who want to pick and choose every single component that goes into their PC, and spend hours meticulously going over every detail. The second are those gamers who are just as passionate about gaming, but don't necessarily want to go through the process of customizing everything about their PC. For these gamers, a prebuilt PC is more than enough, as long as it has the right components for running their games flawlessly.
Newegg's ABS lineup is perfect for those gamers that want a premium gaming experience from a PC that's been built with the best specifications in mind. All of Newegg's ABS PCs are assembled to the highest standards, and allow you to select a PC based on your needs and simply check out. A short wait later, and you'll have a brand new gaming PC delivered to your door, ready to go.
There's absolutely nothing wrong with building your PC from scratch, especially if you're picking quality components from Newegg, but there are some genuine advantages to picking up a prebuilt PC as well.
You can reduce your overall build cost
Sourcing certain individual components can be an expensive process, especially due to limited supply of certain core parts such as the CPU or GPU. With a prebuilt PC, you're paying for everything in one complete package, with no waiting times on certain things that are missing. You'll also be buying everything from one supplier, rather than trying to track down multiple vendors and warranty information for individual parts, so after-sales support is also going to be much easier. Plus, there are often great deals and savings throughout the year on pre-built PCs. 
You can start gaming right away 
Assembling a PC from scratch can be a daunting task for new users, so a prebuilt PC takes all of that hassle away. Just unpack your pre-built PC, power it up, and start installing your games straight away. You can be online and gaming with your friends in under an hour, so it's a great option to choose if you just want to get a PC to game on without having to worry about things like hardware compatibility or if components are installed properly. 
You can pick a PC based on your needs 
Want a gaming PC that just plays indie games with some casual web surfing? Or do you want an absolute beast that can play the latest AAA titles at 120fps? With a pre-built PC, you can easily narrow down your options based on your budget, so you get exactly what you're paying for. There are a number of options to choose from with Newegg's ABS lineup, so you can browse through all of the configurations available and choose what suits your budget and needs the best. 
You're just not that interested in a custom build 
For some gamers, there just isn't that much of an interest in building their own PC, and that's perfectly fine. Pre-built PCs take away a lot of the hassle and energy that goes into assembling your own PC, while still offering a great PC to game on.  
Ready to check out your next gaming PC? Shop Newegg's latest ABS PC builds here